We are thrilled to announce the release of Chatti, the ultimate alternative to ChatGPT. This native and cross-platform application is packed with a wealth of robust features designed to skyrocket your productivity and make your chat experience more enjoyable than ever before!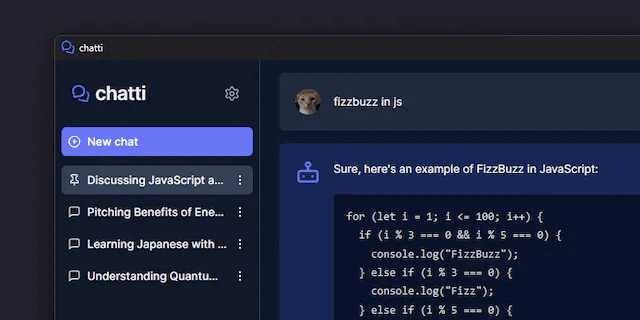 Packed with incredible features
Our template prompts and personalities will change the way you chat, making it easier than ever to get the responses you need and crave.
With customizable models, you can fine-tune your chat experience to suit your every need and desire. It's like having a personal chat assistant that knows you better than anyone else!
Say goodbye to waiting around for responses. With Chatti's simultaneous responses, you can receive multiple messages at the same time, which is something ChatGPT does not offer.
Keep your chats organized and easily accessible with Chatti's pinned chat feature. You'll never have to search for that important conversation again!
Chatti is cross-platform, which means you can use it on any device, including Windows, macOS, Linux, and mobile (soon). Whether you're at home, in the office, or on the go, Chatti is always there to help.
Don't wait any longer to experience the future of AI chatbots. Try out Chatti now and see for yourself just how incredible it can be!